IMO is a popular free social networking mobile app that allows users to create an account, send photos and video, messages and keep in touch with friends, family and colleagues.
How to delete an IMO account?
Once you open your IMO account from your phone. Tap on the menu link located at the bottom left corner of the app. Then, open your profile (you can do this by tapping either on your profile name or picture).
Select IMO Account Settings from the options that appears
Select 'Delete your IMO account' from the options that appears next.
Enter the phone number you used in opening your IMO account and tap on 'Delete' to delete your IMO account. Then confirm the delete process by selecting 'Yes' and your account will be removed from IMO database.
Steps to delete an IMO account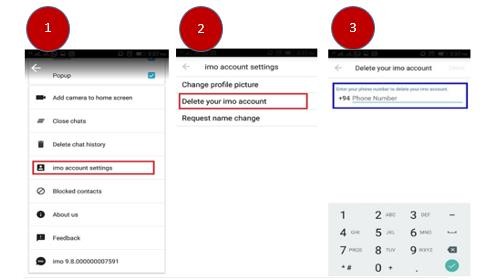 How to Block an IMO chat?
Once a user profile is open on IMO. click on his/her name from the top of your screen.
Scroll down enable block option.
Go back to profile and click on the block button to block him/her on IMO.
Steps to Block an IMO chat